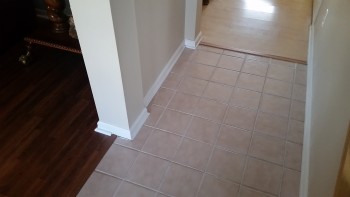 I recently showed a client a house that was a little dated in its appearance but overall a nice place.  It needed a little cleaning or sprucing up, but it had a good floorplan, a lot of interior space, and a huge fenced backyard.  Unfortunately, my clients couldn't see the potential.  Instead they saw a lot of dollar signs.
There was a strong pet smell, wearing carpet on the stairs, and kitchen cabinets that were fading with doors askew.  But the greatest offense were the five different types of flooring on the main level.  As we entered the house there was a cream colored tile that appeared to be original to the house.  It was in good condition if not a little dated.  In the study to the left was brand new dark laminate which was very nice.  To the right of the entry was a newly carpeted dining room. Enter the family room and there was a tired blonde colored laminate. A couple steps away, the kitchen featured vinyl tile squares that had seen better days.
That's right. Before even going upstairs, which was all carpeted, this home offered ceramic tile, two types of laminate, carpet, and vinly tiles on the first floor. This probably saved the home owner money and worked for their lifestyle, but a hodge podge of flooring will only scare the buyers away. While one room may really need help, enhancing only that room may highlight the negative features of the other rooms.
While new flooring isn't cheap, it is a simple upgrade that can pay huge dividends.  It can help you hold your price, entice buyers to make an offer, modernize a house, and eliminate offputting odors. With a little elbow grease and a vision for a consistent flooring theme throughout the main floor and the home, the sellers would increase their chance of selling quickly and for top dollar.
Spending a little extra to continue your flooring theme can pay dividends literally and figuratively.