Accepted offer! Last week we had the opportunity to help a wonderful couple start the process of buying a home!  The market in Indiana continues to gain momentum.
Indiana, along with a lot of the country, had a slower housing start in 2014. Right now there are 479 residential homes on the market in Fishers and 418 homes on the market in Carmel. Year to date there have been 258 homes to sell in Fishers and 203 homes to sell in Carmel (year to date).
What does it take to sell your home? The easy answer is – a buyer. The long answer is a good marketing plan and strategy. Whether your homes sells in the first week or it follows the national averages of 3 to 4 months (90 – 120 days), you need a good marketing plan and strategy and a Realtor who can guide you through the entire process or selling and buying you home. A good real estate professional is worth their salt.
What I notice is if a person can come into a home and see themselves living there, an offer is made. If both parties are reasonable and fair, an agreement is reached and the 30 – 45 day window of negotiating the inspection, obtaining homeowner insurance, and the necessary steps of transferring ownership are completed.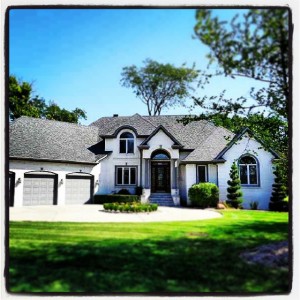 The best way to allow someone to see themselves living in your home is to know your competition and know the designs and amenities of new homes on the market. This is what your home is up against. You have a much better chance of selling your home if it has fresh paint and carpet and is nicely decorated throughout. Take a walk through new construction model homes and see how they have decorated their model home. The hardest thing is to give out your name and number. Yet, if you are working with a Realtor, just give the sales consultant your Realtors card along with your name and you can easily walk through the model home. By walking through a model home you'll know whether you want to build or buy a pre-existing home.
Yesterday, I went into two similar homes with oak trim. One home had started the process of painting the oak trim white and it was amazing to see the transformation. It's hard to visual a home that is complete with oak trim painted white. So, if you can help your potential buyer see the difference, it may help with the sale of your home. In this home only the entry trim had been painted white yet it allowed my clients to visualize what it would look like if all trim was painted white and the home went on their maybe list. The ultimate goal is to sell your home. If you don't keep up with current trends while living in your home, you may have to make that financial investment when you go to sell. You may want to place your home on the  market without the updates and see what happens and within 10 days you will know how potential buyers are reacting.
If you have encouragement to make changes or have only 1 or 2 showings you will know the market is telling you to make updates or lower your price. Then you decide – Do I want to sell my home? At the end of the day you'll need to work with your Realtor to make those changes, adjust your price, or wait to adjust your price.
Keep your home updated and remember you don't live in your home the same way you sell your home. You will make moderate changes to how you live and clean during the sales process.
We are here to help you . If you are looking to buy or sell around Fishers, Geist Area, Carmel, Zionsville or Westfield give us a call.
Jack and Elisabeth Lugar, The Lugar Team at Century 21 Scheetz, 317-572-5033