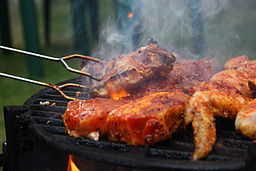 You've heard the saying before, "sell the sizzle, not the steak." Advertisers make a very good income living by this one rule.  And the longer I work in real estate, the more I realize that these are words my sellers need to live by too.
Home buyers purchase a home based on emotions.  The buyers then use logic to justify their purchase. In fact, it's true for almost every purchase any of us make. And for this reason, sellers need to appeal to the buyers emotions first, which means focusing on the beauty, the class, and other visual stimuli of your home.
This is not always cheap for sellers, but it works.  If I show ten homes to a client, usually only one or two sellers have actually done the work necessary to make their home look like a builder's model or that it should be featured in a home magazine.  Knowing this, the competition is not nearly as steep as one would think.
I don't like to encourage my sellers to spend any more money than they have to. Especially money that will not be put back into their pocket at closing, but oftentimes biting the bullet and spending on upgrades and repairs will save time, energy, and money.  This is why real estate professionals encourage sellers to upgrade kitchens and baths first.  Kitchens and baths are sizzle and where you'll get the most bang for your buck. A five-year-old white stove may work perfectly fine, but it doesn't sizzle like a new stainless steel unit, and laminate countertops are functional, but they don't sparkle like granite.
Of course, new roofs, windows, and HVAC units are not sizzle.  Sure, buyers want these things, but they will instantly forget about them once they see hand-scraped hardwood flooring, granite counter tops, and stainless steel appliances.  Moreover, all the wonderful steaky (and expensive) new roofs, windows, and HVACs will be instantly forgotten when the buyer sees brass fixtures, oak trim, and floral wallpaper.
While there is a buyer for every home, the best way to sell for the price you want is to make your home sizzle.  And that does not always have to cost you a fortune.  New paint, fresh mulch, or flashy countertops may actually be a small drop in the bucket compared to the discount you will have to offer without the upgrades just to find the right buyer.
In the long run, regular maintenance and upkeep are very important to selling your home, but when it comes to getting the buyer to make the offer, appeal to their emotions and sell the sizzle.