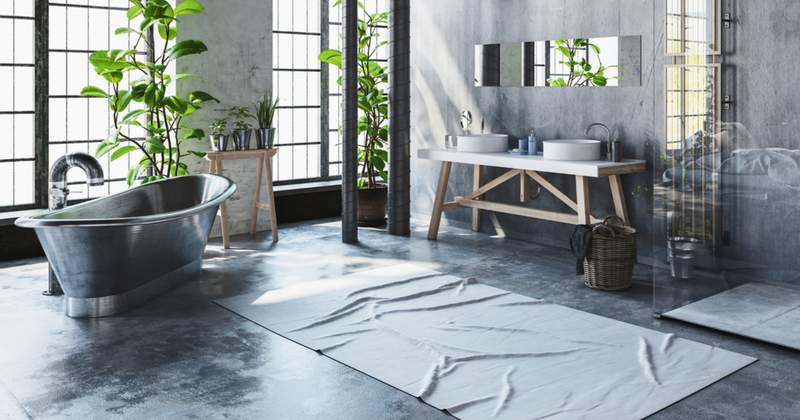 A bathroom remodel is one of the most rewarding projects you can undertake as a homeowner. When well-planned, it can improve your home's aesthetics while adding convenience. And it usually offers a significant return when it comes time to sell.
Remodels don't have to break the bank, either. With just a few hundred dollars and a little elbow grease, you can make a remarkable impact to your space — both in value and style. 
Not sure where to start on your bathroom remodel? Here are some of today's hottest trends:
Bold Metal Fixtures 
Budget: Low 
Forget those old handles, faucets and drawer pulls that blend in. Today's designers are making these small details stand out. Think bold brass, matte black or even rose gold. 
Modern Wallpaper 
Budget: Low 
Wallpaper is back — especially intricately illustrated designs and bright, bold patterns. It's low-cost, easy to DIY and makes an immediate impression. 
Smart Tech 
Budget: Low to Medium 
Savvy consumers are using smart tech in their powder rooms for a touch of luxury. Some of the most popular features include autofilling bathtubs, voice-activated mirrors and sound systems, and LED-enhanced showerheads.
Exposed Concrete 
Budget: Medium 
Concrete floors, walls, counters and sinks are popular with celebrity designers and new homebuilders. They offer a minimalistic, contemporary look that goes with any color palette. 
Freestanding Tubs 
Budget: Medium to High 
Freestanding tubs may date to the Roman Empire, but they're making a stylish comeback. Tuck one into a corner or under a skylight to create a beautiful focal point to relax in. 
If you're interested in remodeling your home or if you want to learn more about the latest trends and how your home compares, get in touch for a local market report.